I have provided a focus on the basic dimensions of the boats used in this type of rowing.
Because the sport is so new to New Zealand it is unlikely many will be aware of what the sport is, and the boat differences between Coastal and traditional flat-water rowing in New Zealand.
In many aspects Coastal Rowing assists several areas of rowing that have been a challenge for rowers in the learning pathway to racing/rowing flat water boats as well as bringing a unique flavour of its own. This is a bonus over and above its racing in a category of its own.
Novice Rowing
They provide an easy pathway for novices learning to row. Their extra width provides stability which allows much faster technique coaching.
For Masters they provide instant stability that assists those with limited flexibility.
Tour/Adventure Rowing
The boats are designed to be "unswampable" allowing for greater safety when engaging in rowing adventures, they also accommodate a much larger range of the population because of their large volume. It is very difficult to adequately boat people over 100kg average in flat water boats.
This has opened up a much larger range of "adventure" possibilities because the boats' sea-keeping abilities have significantly improved from the previous designs.
World Rowing Coastal endurance and Beach sprint racing
Here the boats come into their own, as previously mentioned the large volume means racing is held in very rough conditions and adds to the excitement and complexity of being a fast coastal racer, without sacrificing safety. Not only do navigation skills come into play but the ability to catch and ride waves as well as strength and endurance play a part.
Below is a chart giving the basic differences in size and weight to flat water boats. The Oars and sculls used are by and large the same both in size and design and this is true for most of the fittings, shoes, foot stretchers etc. It is valid to note however that these boats are relatively new to the rowing family and significant development is ongoing to customise them within the rules.
Please note also that the World Rowing (FISA) rulebook goes into greater detail on the minimum width rule to eliminate narrow boats with wide decks from attempting to compete with an advantage. If you have aspirations to design your own boat, check the rules!!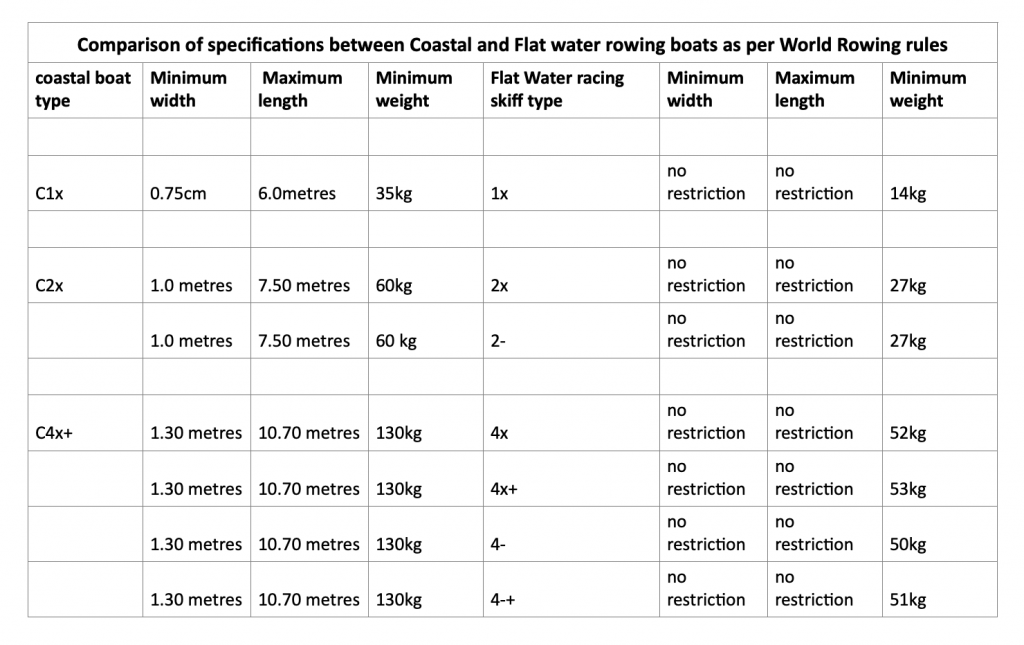 As always if you have any questions don't hesitate to get in touch. greg@customcarbon.co.nz
This article first appeared in the Legion of Rowers newsletter