Obituaries:
Martin Hyde – A much respected member of the Karapiro Rowing Inc Board and race official passed away suddenly on 9th June. Martin officiated at countless regattas where he made a wonderful and positive contribution to the sport. His presence at regattas will be sadly missed. A funeral service for Martin was held in Rotorua on 15th June.
---
Junior Rowers
The Junior Team to travel to Galve Lake Trakai, Lithuania has been announced and will be leaving 23rd July. The Under 23 Squad leaves 9th July.
Please see below the first report from Jack Lopas (the 2nd and 3rd reports are on the website here ). Jack was one of the Junior Rowers supported by Legion last season. Jack, with his rowing partner Lenny Jenkins, won Gold in their Junior Double World Champs Event in Rotterdam 2016. Jack has been selected in the U23 Squad for this year.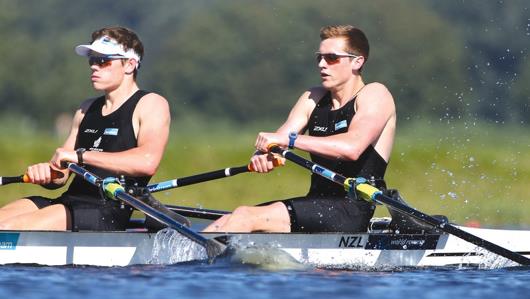 Hi All,
We are now almost 2 weeks down on the 10 week training part of the campaign. Other than the cold weather beginning to kick in, and a few nasty headwinds, we have been very fortunate as of yet, with weather. Not so lucky on the training load, completing over 300km of rowing already and over 200km of cycling (just getting to and from trainings). This load is likely to increase as the campaign progresses. We have to get battered before we can be at our best. Our boat has been incredibly adaptive to each of our individual styles of rowing. That has directly contributed to a huge lift in boat speed and consistency within training.
The boat I am in is the Quadruple Sculls consisting of four scullers from all over NZ.
Stroke – Jack O'Leary, originally from Dunedin although training out of Central RPC in Blenheim.
3 Seat – Jack Lopas (Myself), originally from Christchurch and training out of Christchurch with the Southern RPC.
2 Seat – Oliver Maclean, originally from Auckland and training out of Auckland with Auckland RPC.
Bow Seat – Jordan Parry, originally from Tauranga and training out of Cambridge with Waikato RPC.
This boat is full of experience, with all of us previously competing for NZ at an international level. Unfortunately I do not have any photos of us rowing yet, I will be sure to get some for the next update.
This weekend we have Winter Series 1, which is a regatta held by Rowing New Zealand and will take place over Friday through Sunday where we will compete in 2km races against the Elite Squad. For this we have a fill in, Matt Messman from Southern RPC, because Jordan Parry has been struck with an injury, but has been making a swift recovery and we should be sure to see him back in the boat soon. Looking forward to the exciting weeks ahead, beside the not so exciting long kilometres.
All the best, and thank you for the past and ongoing support, it all can't be done without it.
Jack Lopas
Lake Marica Plovdiv, Bulgaria – the Venue for U23 World Champs 2017.
Recipients of Legion Junior Trust Grants for 2016 were:
| | | |
| --- | --- | --- |
| Brylie Gordon | Hauraki Plains College | Quad |
| Jack Lopas | Christchurch Boys High School | Double |
| Charlotte Spence | Auckland Rowing Club (Auckland RPC) | Coxless Four |
| Sam Monkley | Cambridge High School | Quad |
| Thomas Cummack | Star Boating Club (Central RPC) | Quad |
| Rueben Houghton | Hamilton Boys High | Eight |
Support the Legion of Rowers Junior Rowing Scholarships
Your donations will help future rowers.
Please donate via our website Become a Member
N.B. You do not need to be a member, just use the same form for the donation 
---
Save this Weekend: Labour Weekend 2017
Whakatane Rowing Club would like to Host Masters Rowers in Whakatane, rowing, sight-seeing, art and crafts, walking etc.
See Link with itinerary options: (Whakatane Weekend Page) . We are looking for expressions of interest and an indication of which activities you would like to join. Once we have an idea of numbers we will be able to provide some price indications where needed.
---
2017 Legion Regatta Survey Findings 
Summary of Responses 
Following the Legion Regatta an email was sent to all competitors, for whom we had an email address, requesting them to participate in a regatta survey. 120 responses were received. This was a 39% response rate representing 30% of all the competitors.
When asked for their overall ranking of the regatta, 77% of the respondents were either satisfied or very satisfied with the regatta. There were no "unsatisfied" responses.
Specific Areas with high satisfaction rankings 
Location – 98% satisfaction rating
Registration Process – 94% satisfaction rating
On water Management – 90% satisfaction rating
Specific Areas where the rankings were more spread 
Food – 60% who responded were either dissatisfied or neutral
Awarding of Medals & trophies – 45% respondents were either dissatisfied or neutral
The Programme – 30% respondents were either dissatisfied or neutral
Regatta Location 
98% of respondents were very satisfied/satisfied with the regatta being at Lake Karapiro.
76% of the respondents preferred Karapiro as the Legion Regatta location with just 13% preferring Hamilton Lake. The rest had no preference. The preference for Lake Karapiro was in part to the facilities, the regatta organisation and "professionalism" of organisers (KRI). Those in favour of Hamilton tended to prefer its more social aspect.
Race and Event Programme 
30% of respondents were either unsatisfied or neutral about the Programme of events. This area had the highest level of comment with 55 % of respondents providing input.
The key focus of these comments was on the tightness of the schedule (3 minute intervals) and the proximity of clashing events causing crews to either miss events or struggle to get to them in time. (note: the average events entered per competitor was 3.5) 
Registration Process 
Interestingly, while the registration process received a high level of satisfaction (94%), there was plenty of suggestions on how it could be improved. Key themes here were the desire to pre-register, use online, eftpos and credit card facilities.
Awards and Trophies 
There were some negative comments made. These tended to be more about specific individual awards rather than the Awards generally. Surprisingly for several of those who commented, the trophies and awards, while nice to have, were not of great significance.
Food 
Food received the highest level of unsatisfactory rankings (60% gave a neutral or dissatisfied ranking). The response was varied with no general theme. Issues raised were; price, the location of food and variety.
What could the Legion do More of 
The most prevalent theme was additional events/regattas geared to social rowing and as a warm up regatta for the National Masters regatta.
There were also requests for more information on the benefits about becoming a member of the Legion.
Unsurprisingly no one wanted the Legion to do less.
PROPOSED DATE FOR 2018: Saturday April 7th at Karapiro
---
Another reminder – Legion subscriptions of $30 are due April 1st for 2017/2018 season – please go to http://lor.kiwi/become-a-member/ for registration, payment options and any additional donations for Junior Rowers are always appreciated.
---